Welcome to Treasures of the Southwest
20 Years Celebration!
1995-2015
American Turquoise - American Labor - American Pride ©
Thank you for shopping with us. Bob and Donna Bunnell
Save 50% - 60% off Retail!
Plus Free USPS Priority Mail Shipping.
Plus Free Gift Wrap!

Indian Arts and Crafts Association Collector's Guild Join the Journey. Enjoy the Rewards.
Join the Indian Arts and Crafts Association Collector's Guild today, and help us all support the promotion, preservation and protection of authentic American Indian Art.
Your membership in the IACA Collector's Guild will enable your association to continue its work on your behalf, and on behalf of American Indian Artists.
Promote, Protect and Preserve American Indian Art
Sponsor Indian Artists at IACA Markets
Recognize excellence through the IACA Artist of the Year program
Annual membership dues to the IACA Collector's Guild are just $70.00 for an individual, or $90.00 for a joint membership (two people at the same mailing address.)
As a IACA Collector's Guild Member, there are many benefits to you, including:
A One Year Subscription to Native Peoples Magazine
Subscription to the IACA Newsletter
Subscription to IACA email Newsletters
Free admission to the IACA Collector's Market
10% discount on items purchased at the IACA Collector's Market from participating artists and merchants
IACA Annual Membership Directory and Guide
Free admission to IACA Collector's Seminars
10% discount on American Indian Art purchases from participating IACA Member retail locations and artists.
Join the IACA Collector's Guild Today! You may join the IACA Collector's Guild online. Benefits will be activated immediately. On behalf of all IACA Members, thank you very much for helping us to continue our 37 year-old journey.
Treasures of the Southwest is a proud member of the Indian Arts and Crafts Association.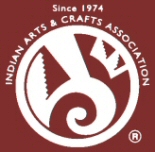 Treasures of the Southwest is proud to support the Native American Artists that are members of the Indian Arts and Crafts Association.
The Indian Arts and Crafts Association was established in 1974 in response to the growing problem of misrepresentation of American Indian arts and crafts in the marketplace. The original founders were American Indian artists and reputable businesses located primarily in the Southwest. Today, IACA is an international organization representing every link in American Indian arts – Native artists from the U.S. and Canada, along with consumers, retailers, wholesalers, museums, government agencies, suppliers and supporting members.
IACA works to support the effective protection, ethical promotion of authentic Native American art and preservation of material culture has helped instill confidence in the consumer marketplace. Through its markets, educational publications, cultural programs, seminars and networking to enable artists' work to reach a global market, IACA has played an integral role in the strengthening of the Indian arts and crafts industry. Consumers know that if they see the IACA logo, they can buy with confidence.
Buyers and collectors have learned to look for the IACA logo as a standard of authentic American Indian art. The IACA logo assures buyers and collectors of purchasing with confidence. The symbol is copy-righted and only members of the Association are allowed to use it. As a member, each artist and business agrees to honestly and ethically represent their merchandise and to abide by all state and federal laws.
---
Treasures Reviews!
(average out of

748

votes:

5.0

stars)
More Customer Reviews
reviewed: 09/18/2015
My earrings are beautiful, just what I wanted, and they arrived in my mailbox...
reviewed: 09/17/2015
Jewelry from Treasures of the Southwest is of beautiful quality. The craftsmanship is the...
reviewed: 09/17/2015
As usual I got what I saw. My earrings look great, just like the...
Join Us!
Join the Conversation!
Be the First to Know
What's New!
Like Us on Facebook
Made in the USA!
Featured Products
Bookmark Our Site
Bookmark our site and visit often.
We are always adding new
Beautiful Jewelry.
Newsletter Signup
Be the first to know


What's New!


For email notification of arrival of new items just enter your name and email address.