Millefiori of Venecia
Millefiori is a type of Murano glass that has been incorporated with various layers of colors to create beautiful flower-like patterns. Millefiori, which literally means "a thousand flowers", is the denomination of a type of cylindrical, long glass rod which contains a specific pattern along its entire length, so that when cut into slices from one end, the particular pattern will be revealed. It is completely handmade of authentic Murano glass. This style of glass has been around since the Middle Ages and more recently, has been produced for fine jewelry.
Behind the Scenes- Making of Millefiori
Millefiori owes it particular beauty to a very complicated and skillful process which was discovered by the glass makers of Murano. It starts out with Murano glass rods. These rods are made from taking a 1.5 meter metal pole with small mass of molten glass on it. (Please see picture 1). It is then dipped into different pots of other molten glass of various colors. (Please see picture 2). The multiple colors used in the glass create beautiful flower-like patterns, granting its name, Millefiori. As this mass increases in size, the molten glass is squeezed into a star or flower-shaped mold, which gives the final form of the pattern. (Please see picture 3.) A last layer of glass is applied to maintain the cylindrical shape of the rod. A second metal pole is then attached to the other side of the glass mass. (Please see picture 4). Two glass makers, one at each pole, pull the glass into a long, find rod by walking in opposite directions. (Please see picture 5).
1
2
3

4
5


After the cooling process, these glass rods can be sliced to reveal the pattern. The glass rods are sliced into desired thickness and size, resulting in the production of murrines. A murrine is each slice or piece of the rod. These individual pieces are then laid into a mold and melted. The most outer layer (the one used to maintain the cylindrical form) of each murrine will melt into each other. Once cooled, it can be removed from the mold and be incorporated into making various Millefiori jewelry items.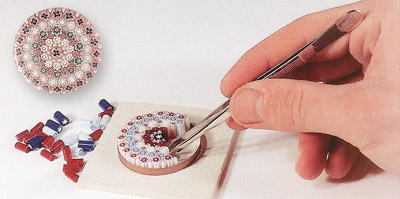 Although, the Venetian Murrina originates from ancient Roman, Alexandrian and Phoenician glassware, it wasn't until 1968, when the production of murrine pendants began. All it took was a simple invention of a copper band in various forms (circles, drops, hearts, crosses, etc.) to create beautiful pieces. The slices of the Millefiori rods called murrines were placed into the copper mold and inserted into a kiln. There the murrines fuse together forming a compact shape. It is cooled and then polished to form a thin layer which is slightly convex. A final polish heightens its shine and is ready for use.
Millefiori by Alan K
In 1997, inspired by the art of Millefiori making, Alan K. started to create and develop new techniques of incorporating the glass into fine sterling silver jewelry. He envisioned the glass embedded in a variety of shapes and designs of sterling silver pendants. These extremely unique Millefiori pendants are offered by Treasures of the Southwest.com. Our Millefiori line not only exhibits intricate and crafty workmanship, but also are reasonably priced.