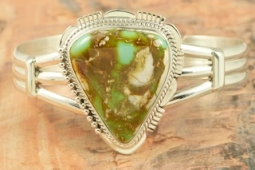 Navajo Artist John Nelson is a Master Silversmith and he loves working with Turquoise. We have been featuring his work in our store for many years.
John Nelson was born in Winslow, Arizona and he has 2 brothers and 2 sisters. He has 3 children and 4 grandchildren. He enjoys being outside and especially loves going to garage sales and the flea market.

He moved to Albuquerque at a young age and later attended the Albuquerque Indian School. That's where a good friend in high school taught him how to do silver work. He has been working with silver and turquoise since the 70's. He signs his work J Nelson.
Just enter his name in the search box at the top of this page to see his amazing designs.


Related Posts and Information