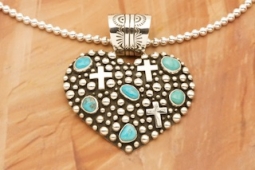 "The Million Drops Collection"

Each Sterling Silver drop is handmade, and meticulously placed for a rich texture.
The Navajo silversmiths accent the jewelry with Sterling Silver Crosses and use Genuine Turquoise, Coral or Freshwater Pearls in making beautiful pendants, earrings and bracelets. The jewelry has a contemporary look and can be big and bold or choose cute lightweight earrings!
Related Posts and Information