Southwest Turquoise Mines
Turquoise Mines in the American Southwest produce the most beautiful Turquoise Stones
---
Native American Artists have been using Turquoise from the mines in the Southwest to create their Traditional Jewelry for many years.
by Donna Bunnell • August 20, 2019
Turquoise Jewelry, Native American Jewelry
---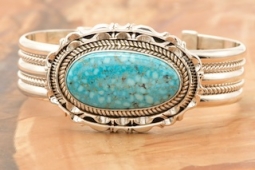 Southwest Turquoise Mines
The Turquoise in the Jewelry comes from various mines the the American Southwest. It is the best quality turquoise you can find. Mother Nature is amazing! These natural turquoise stones have a variety of colors from bright blue to dark greens with beautiful matrix. This is a sampling of a few of the most popular turquoise mines.
Number 8 Mine Turquoise Jewelry - "Turquoise with an Attitude"
Number 8 Turquoise has character in its appearance and can easily be identified. Few gemstones have such a variety in appearance as to have individual character and personality as the Number 8 Turquoise. With its golden brown to black distinctive spider web matrix and unique bright powder blue and green background. it has been valued for its beauty and reputed spiritual and life giving qualities. The Number 8 Turquoise mine was discovered in 1925 and first mined in 1929. The Number 8 mine is located in Eureka County Nevada. Since 1976 there has been no Number 8 Turquoise mined. There is however, an existing stock pile that Mr. Dowell Ward, the last owner of the Number 8 mine, had stocked away for later sorting. The Turquoise is a collector's item--because once the reserve is gone there will be no more material released onto the market. The Gold Mining Company owns the claim to the Number 8 mine and it has been swallowed up by the gold mining operations. This is some of the last Number 8 Turquoise to be had and will be a great addition to your collection.
The matrix on this rare stone is outstanding. The Sunnyside mine is located in northern Nevada near the town of Tuscarora in the Tuscarora mountain range.The mine is no longer in operation as it has become part of a gold mining operation and a privately owned ranch. The Sunnyside mine was mined mostly in the 70's. You won't find much of this great turquoise around anymore except for old stashes.
Mother Nature is Amazing! When you look at Boulder Turquoise Jewelry you can see the veins of Turquoise running through the host rock. The Boulder Turquoise Mine is located in northeast Nevada. It was discovered in 1970 by a Shoshone sheep herder. Production is small due to the remote location and winter weather. Boulder Turquoise is valued for both it's beauty and rarity. Every stone is unique.
Crow Springs Turquoise Jewelry
The Crow Springs Mine is located near Tonopah, Nevada. The Crow Springs Turquoise Mine was closed for many years. It recently was opened by Dennis and Lucy Cordova. The Smith family previously owned the mine. This family had been mining turquoise in Nevada since the 1870's. In 1909, William Petry discovered a deposit one mile southwest of the Crow Springs claim. In 1939, Ann Cooper Hewitt, heiress to the Cooper Hewitt fortune, made from inventing the mercury-vapor lamp and the first fluorescent lighting, filed claim to the mine and built a home there, which she called AnnJax. She did little work on the property and subsequently abandoned it.
King's Manassa turquoise is mined at Manassa in south central Colorado, but began its mining days with Ancient Pueblo peoples. The Manassa mine is also known as King's Manassa or the King's Mine. Another name for the turquoise that comes from this mine is "Lick Skillet" turquoise which comes from the hard times that the King family and local miners had to suffer through while mining the precious stone. The name comes from Israel Perviose King and his descendants who still mine for turquoise. I.P. King discovered this vein of turquoise while looking for gold. After mining for a while, he soon abandoned the mine after seeing that there wasn't very much gold, only some strange blue rocks that he took back to his home. He didn't realize that these stones were valuable until a friend asked about them.
Sleeping Beauty Mine Turquoise Jewelry
The Sleeping Beauty Turquoise mine is located in Gila County, Arizona. Sleeping Beauty Turquoise is relatively abundant. The turquoise mine produces uniform blue turquoise that is easily matched and used in many styles of Native American Jewelry including Zuni needlepoint and inlay pieces.
Royston is a turquoise mine located within the Royston District near Tonopah, Nevada. The Royston District consists of several mines including Royston, Royal Blue, Oscar Wehrend and Bunker Hill. The mines in this district were discovered as early as 1902; in fact, Royston is the oldest patented mine in Nevada. While Royston is considered an active mine, it is a very small operation. The miners go to the mine only twice per year. Royston was originally a tunnel mine, but is now an open pit. Royston is a good producer of high quality stones. According to one of the current miners, Royston turquoise is known as "grass roots," which means the best deposits are found within ten feet of the surface.
The Castle Dome turquoise mine is located about 30 miles from the Sleeping Beauty mine, near Globe, Arizona. The Castle Dome mine has not been in operation since the early 1970s. The turquoise deposit had been depleted. Castle Dome was operated as an open pit mine. The site has since been reclaimed, meaning it has been filled in and replanted with native plants and grasses.

The Pilot Mountain Mine is located in Esmeralda County, Nevada. Pilot Mountain turquoise was first mined around 1930 as a tunnel mine. Then it became an open pit mine when heavy equipment was available around 1970. The current owners of the claim have been mining the turquoise since 1989. While Pilot Mountain is considered an active mine, it is a very small operation. The miners go to the mine twice per year, bringing out only about 150 to 200 lbs. of rough stone each time. One of the current owners says one of the interesting parts of mining is "not knowing what you are going to hit next."
White Buffalo Turquoise Jewelry
White Buffalo Turquoise is a beautiful white stone with fine black spiderweb or kind of a blotchy matrix. White Buffalo Turquoise is formed from the minerals Calcite and Iron. The mine is near Tonopah Nevada. It is mined by Danny and Dean Otteson.

By Donna Bunnell

Related Posts and Information
See Native American Jewelry made from Turquoise mined in the American Southwest
Please log in to leave a comment.