Navajo Artist Freddy Charley
Beautiful Jewelry by Navajo Artist Freddy Charley
---
Navajo Artist Freddy Charley was born and raised in Shiprock, New Mexico........
by Donna Bunnell • April 17, 2019
Turquoise Jewelry, Native American Jewelry
---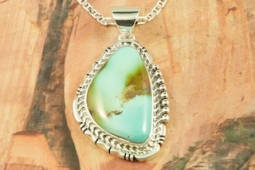 Freddy Charley
Born and raised in Shiprock, New Mexico. I grew up among ten siblings, 3 older sisters, 3 older brothers, 2 younger sisters, and 2 younger brothers. My father is deceased survived by my mother who weaves Yei-bi-chei rugs. My parents brought us up with Navajo traditions and at the same time encouraged us to get a good education.

I graduated in 1981 from Shiprock high school then moved to Albuquerque, New Mexico. Took Diesel mechanic classes at TVI and graduated in 1984. I then worked in the field of Diesel mechanic for about ten years, while at the same time practicing how to make and buff jewelry.

I met my wife Rena in 1984 and we have 3 boys' ages 26, 20, and 10 years old and 1 granddaughter 10 mos. Rena got me into the jewelry business because her family was in the jewelry business doing piece work .

I got started by buffing and polishing for my mother-in-law. Later I got a buffing job and learned how the pieces were put together. Soon I Worked my way up to a silversmith position with my welding skills and my artistic talents. I get my ideas from attending different tribal dances and going to all sorts of art shows. My favorite pieces are the 3 dimensional one-of-a-kind kachinas among contemporary jewelry. I also work with gold and learning how to perfect in-lay work. Making masters for casting is also my specialty.
Just enter his name in the search box at the top of this page to see his amazing designs.

Related Posts and Information
Please log in to leave a comment.