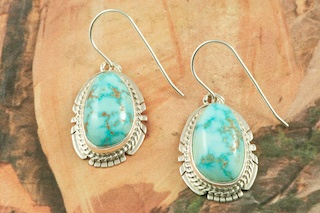 Kingman Spider Web Turquoise Jewelry
The Kingman mine in northwestern Arizona was one of the largest turquoise mines in North America. The terms "Kingman" or "high blue" refer to the blue color usually displayed in this stone. It has become a color standard in the industry. The mine became famous for its rounded, bright blue nuggets with black matrix. Few turquoise mines produced nuggets, especially of this quality. Old natural Kingman Turquoise is rare. The Colbaugh's own this mine and the Turquoise Mountain mine, their company name is Colbough Processing. They have recently gone back into the section of the Kingman mine and are digging and bringing our some new Natural Kingman Turquoise.
The Mineral Park Mine, in the Cerbat Mountains 14 miles northwest of Kingman, was first mined by Indians centuries before white man came to the area. It is one of the three sites of prehistoric mining localities in the state of Arizona. Mineral Park was the most extensively worked area by the Indians of the three. S.A. "Chuck" Colbaugh found a cache of stone hammers uncovered in ancient trenches and tunnels, when he had the turquoise mining concession in May of 1962. Ithaca Peak and Turquoise Mine (formally called Aztec Mountain or Aztec Peak) are the most famous of the peaks in the area containing turquoise.
You can see this Beautiful Turquoise Jewelry here: